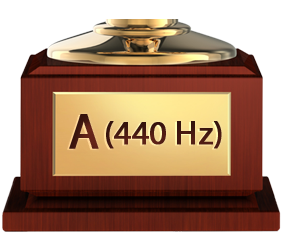 Click on the tuning fork :)

App rating
Your rating?
Votes:

73

Rating:

3.3
Online tuning fork
On this page you can use a musical tuning fork online.
From time to time any musical instrument needs to be tuned. For this purpose people invented a special tool – tuning fork. Usually it is used for tuning guitars, violins, violas, pianos and many other musical instruments. It is also needed for glee rehearsals, especially when singing A cappella.
Tuning fork generates the constant sound with frequency 440 Hz. This frequency is an international standard for note La or A. Actually the musical tuning fork is a "piece of iron" in the form of a fork. When you hit it, the vibration starts which provokes the needed sound. Thanks to the tuning fork, tuning of musical instruments at home has become easy and accessible even to non-professional musicians. This application recreates the main function, the look and the classic form of the tuning fork.
The service is available free of charge and without registration. It provides you with the audio sample of the highest quality and accurate frequency. In order to hear it, you need to click on the "iron fork". After that, you will immediately hear the sound of note A. To turn off the sound, click on the "fork" again. In the upper right corner you can adjust the volume of the sound. If you do not hear the tune, then check the sound on your computer, or try opening the application in another browser.